Religion
Cook Communication Books
Blessings in the Rain 90 Days of Encouragement through the Storm, by Lisa DeVinney
Print: $11.24
LISA DEVINNEY - "I will send down showers in season; there will be showers of blessing." Ezekiel 34:26b NIV Are you in the midst of a storm, today? Are dark clouds looming above you while water is rising around you? Or do you find yourself fighting a battle that seems to test every fiber of your strength and faith? Or maybe you have a friend facing a difficult challenge, and you'd like to encourage them through their battle. Inspired by a friend's courageous battle with cancer, Blessings in the Rain is a collection of Scripture verses and poems meant to encourage those who find themselves fighting battles of their own. Whether physical, mental or spiritual…the battles we face daily can easily cause us doubt, discouragement, despair, or fear. But God has an incredible way of taking what might have been meant to harm us, and instead use it for our good. He turns our storms into "showers of blessing."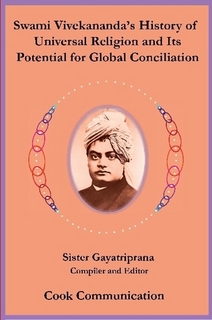 Swami Vivekananda's History of Universal Religion and its Potential for Global Reconciliation, by Sister Gayatriprana
Print: $39.74
SISTER GAYATRIPRANA - In the words of Swami Vivekananda (1863-1902) this book is a history of Vedanta, a deeply subjective Indian spiritual tradition going back to prehistoric times. There God is experienced and known directly in the depths of the human soul. We learn of the social structures, philosophical schools and practices of self-transformation at its heart and how the tradition withstood a millennium of subjugation to Western Abrahamic religions with their extra-cosmic deity and deep distrust of Vedantic subjectivity. Vivekananda speaks from the level of vijnana that permits of integration of both Indian subjectivity and Western objectivism, opening a door to their conciliation with each other and indeed to any other of the global spiritual traditions. An artist, medical doctor and Vedantic nun, Gayatriprana seeks to integrate Western science and Vedanta, as in her doctoral thesis: Learning in Depth: A Case Study in Twin 5x5 Matrices of Consciousness: https://jeanmacphail.academia.edu"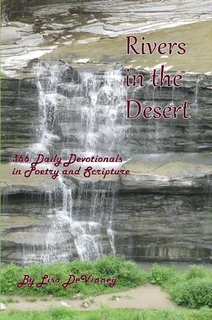 Rivers in the Desert, by Lisa DeVinney
Print: $21.95
LISA DEVINNEY - Rivers in the Desert is a book of responses, in poetry, to God's precious Word. There is a poem and verse of Scripture for each day of the year, to encourage daily time with God. These short devotionals are a great way to take just a moment of each day to soak in a refreshing from those "rivers in the desert."

There: A Biblical Chronology, by David C. Cook III and Jenny Wren (book)
Hardbound: $34.80
DAVID C. COOK III and JENNY WREN - David C. Cook III was unable to complete his vision of a Bible story where the reader seemed to be there to actually experience events. In this book Jenny Wren (Lois Blaschak) continues his quest, adding her chapters to his present tense chronicle.
I Will Lift up Mine Eyes: 366 Daily Devotionals in Poetry and Scripture, by Lisa DeVinney
Print: $22.95
LISA DEVINNEY - I Will Lift Up Mine Eyes is a book of responses, in poetry, to God's precious Word. They are arranged in such a way as to encourage the reader to be daily in the Word of God, seeking His wisdom, comfort, conviction and encouragement. Daily time in God's Word will never be wasted time. And these short devotionals are a great way to take just a moment of each day to redirect the reader's gaze back to where our help comes from…the Lord.

God Is Faithful, Sunday School Lessons for Junior/Adult, by Cindy Tamboso more
Print: $26.98
CINDY TAMBOSO - Join CindyGirl as she helps teachers of Junior and Adult Sunday Schools present the Bible in exciting lessons and handouts.

Followers of God, Sunday School Lessons for Grades 3-5, by Lisa DeVinney more
Print: $24.99
LISA DEVINNEY - God has entrusted Sunday School teachers with the awesome privilege and responsibility to lead children to Himself, then help them mature as followers of Christ. This 26-lesson series can be a useful tool in helping you, as one of those privileged few, to reach many young hearts with the Good News of Jesus Christ!

Train up a Child, Sunday School Lessons for Primary Grades, by Julie Pisacane more
Print: $17.99
JULIE PISACANE - It is my heartfelt prayer that the lessons placed in this book help shine bright the light of Christ Jesus our Saviour into your Sunday school class. The crafts, projects and 26 Bible lessons are written and prepared especially for young children between the ages of 5-9. May God richly bless you in your efforts to help the children learn more about our Lord Jesus Christ. Add to Cart EmailEmbed Digg Reddit Facebook MySpace Twitter StumbleUpon del.icio.us Ratings & Reviews | Product Details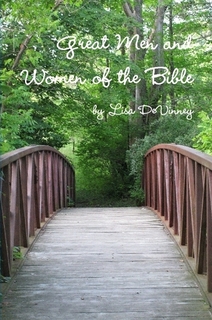 Great Men and Women of the Bible, by Lisa DeVinney
Print: $34.99
LISA DEVINNEY -Heroes are people we look up to and admire, perhaps because of their great feats of strength and courage. The Bible is full of godly heroes who lived lives of courage, faith, and conviction. They were not always men and women of great natural ability. But God has always delighted in taking ordinary people, and using them to do extraordinary things, for Him.
These Sunday School lessons are meant to bring these Bible heroes to life, not just so we can admire what they've done, but also to encourage us to know that God might just be calling us to be modern heroes of faith, for Him..
We can find courage in reading how God faithfully provided for His heroes of the past. Our faith can grow, as we study time after time where God's hand moved to protect and strengthen them. And we can be resolved that when God calls us, we can be ready to follow in the footprints of the Old and New Testament Heroes of faith.
<
Print: $14.95

S.M. ZAKIR HUSSAIN - The Qur'an claims that it is the Word of God. It also says that the proof is there in the pattern of the Word itself. But until now no work has ever exhibited what some of the patterns are. This is perhaps the first book that clearly shows that some easy analysis of such patterns makes it evident that the claim of the Qur'an is not only true but surprising too.

Print: $15.95
S.M. ZAKIR HUSSAIN - This book is a unique collection of articles on the nature of the human mind, happiness, meditation, knowledge therapy, spiritual therapy, creativity and such other topics. Written by S. M. Zakir Hussain, one of the most influential writers of Bangladesh, these articles open a new horizon to the mystery of the human mind and psychic powers. Most of the articles are life-transforming and uniquely inspiring. Readers of all ages and religious backgrounds will find it interesting. The author has established from many points of view that life can only be transformed by observing the self. The book contains articles that can even cure some psychic diseases instantly, as the author has reported after applying them on people with emotional disorder. It is a must read for any ambitious person.

The Mystery of Creation, Destruction, and Natural Calamities, by S. M. Zakir Hussain
Print: $19.96
S.M. ZAKIR HUSSAIN - Learning takes place when we make mistakes and then correct ourselves. God Himself wants us to learn in this way. However, when we cease to learn, there is nothing left valuable in us. And when we do not contain any potential, we become fit for destruction.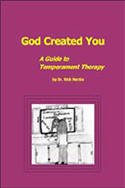 God Created You, by Dr. Rick Martin (book)
Print: $16.95 - Special! $4.99
DR. RICK MARTIN - How a person behaves is a combination of temperament, living in the strengths and/or weaknesses of their temperament, environment, decisions they have made or not made, conclusions they have drawn or not drawn about right and wrong, their relationship with God or lack thereof.
To purchase, write